A monthly recap of my life as a career coach, writer and human being.……..
Update 5th July 2019
It's been a real trip down memory lane this week, travelling with my daughter to visit Leeds for one of the university open days.
First there was there was the coach from Victoria, I'd forgotten quite how frequently I used to use this service as an undergraduate, for trips home and visiting friends.
Then I had a bit of 'Déjà vu' at Golders Green, our first stop out, I'd travelled there to pick up my very first car, a white Vauxhall in the early 90s.
Then of course there was Wakefield and our destination Leeds, where I'd spent quite some time when dating a former boyfriend.
Funny how it all came flooding back on our rather delayed coach journey. I guess nothing quite beats being physically, present to evoke a ton of memories.
Update 12th July 2019
How are you?
Has always seemed to me a perfectly reasonable way to start a conversation, something that I generally took for granted. However, in the past six months or so, working with vulnerable and troubled young women, I have learnt that it can cause quite a lot of anxiety and distress. Really started to notice the pain and worry on their faces, each time I asked it. It then occurred to me that if you are feeling like shit for quite a lot of the time the last thing you need is someone consistently asking, 'how are you', every time you see them.
Talking this through with another more experienced member of staff was helpful as she came up with an alternative, 'good to see you' which I will try instead. I'll let you know how I get on.  Now I'm wondering about other seemingly innocuous questions that in this setting, may also be unhelpful.
Update 19th July 2019
A small selection of the beautiful postcards finished off by some of the guys at, Off The Fence; the homeless project I help out at.
All part of our mindfulness and relaxation with colour sessions. It's taken some months to attract a few regular participants, but very glad to have kept going with it.
All we need to do now, is work out what to do with them all.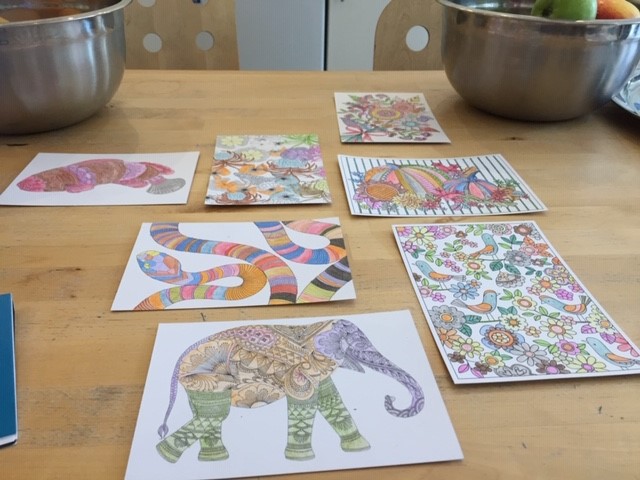 Update 26th July 2019
"You have brains in your head. You have feet in your shoes. You can steer yourself any direction you choose." – from the inimitable Dr Seuss.
That's me today, as due to the exceptionally warm weather and the potential hazard of buckling railway lines a planned visit has had to be postponed.
So, now I have an agenda free day, one of the joys I think of being largely self-employed and I'm going to make the most of it.
Maybe I'll get a bit more writing done, perhaps a little admin just to keep my hand in and then at some point this afternoon, I'll head down to the sea for a bit of mooching about and daydreaming. It almost doesn't matter what I do, the gift for me is the lack of agenda.
So, what would you do with an unexpected free day?
And there it is, my month for this month 🙂