I hope 2023 has started well for you, and here is my round-up for January as a coach, writer, and human being.
Bonkers Saturday Night TV
How bonkers was the Midnight Game Show segment on Michael McIntyre's Big Show? Peter Crouch and his wife Abbey Clancy were amazingly gracious, funny, and lucid, given that they were woken up at 3 am by Michael and a film crew by the side of their bed.
And then they were the guest appearances, but I don't want to give too much away.
It reminded me of when I covered sleep-in shifts as a support worker for vulnerable young women. I would get calls in the middle of the night to deal with whatever drama or emergency was happening in the project.
There is nothing like that initial shock of waking up from a deep sleep and then getting your brain in gear to assess the situation before you can work out how best to deal with it.
Thankfully it didn't happen too often, and I am grateful because it reminded me of how resilient I can be. It also taught me how chaotic and tough life can be for young people when they don't have the structure or support of a consistent adult.
Opening your world to new possibilities.
If you think adventure is dangerous, try routine; it is lethal – Paula Coelho
I use this quote and a few others in my guest post for @jennygarrett.global – Seven Ways to Open Your World to New Possibilities.
Although I have been writing and posting blogs for over ten years, I still get a little nervous when asked to do so for someone else. There is no rhyme or reason to it. But if you want to shake things up a little in 2023 and expand your horizons, do take a look.
I would love to hear your thoughts.
Lessons from 2022
I cannot live my life from behind a screen – physically, I need to get out and about more, both professionally and personally. So, I was delighted to deliver a couple of in-person workshops in 2022, my first in almost three years, and to attend my first networking event at BARCO Brighton.
Get back to saying yes and then worry about the how and the logistics. Stop worrying about the trains – I'll either get there or postpone.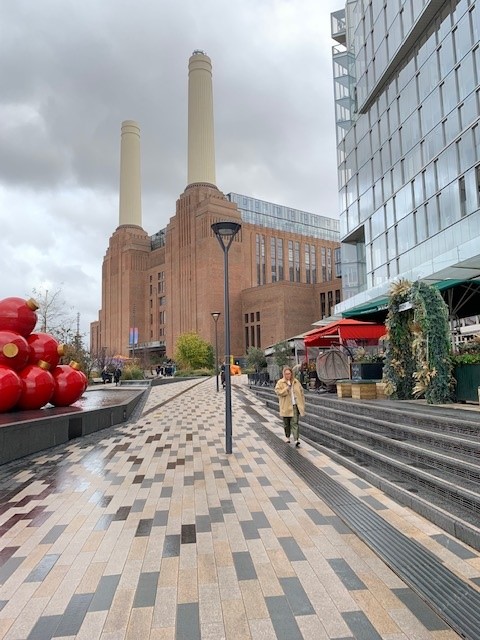 I need more of the outside in my life – although I exercise every day, I don't always manage to get outside. The weather hasn't always helped, but I am waterproof with a winter coat and boots.
Embrace booking ahead to eat and accept that the days of meandering around to drop in for lunch are gone. The penny finally dropped on a recent day out at Battersea Power Station; as far as eating out is concerned, spontaneity is no longer the name of the game.
I need at least one meeting-free day in my week to move forward with my projects for 2023. I am choosing to make the proper time and space for them – rather than squeeze them into the occasional gap.
Headphones are fabulous for some things – I plug myself in when writing, catching up with admin etc. But not so good when playing the piano. It wasn't until I tried to record myself for an Instagram post that I realised how much I'd come to depend on the safety of only hearing myself through headphones. Thank you, @Carol Stewart – your suggestion on LinkedIn prompted this realisation. And this will help with my plans for a podcast too.
There is more, I'm sure, but for me, at least that is enough to be going on with.
Let's see what 2023 brings.
Until next month